Fruit Fly Lure (Bactrocera dorsalis)
Fruit fly lures are effective tools used to attract and trap fruit flies
Lures are typically designed to emit odors that mimic the scent of ripe or decaying fruits, which are highly attractive to fruit flies.
Using fruit fly lures as part of an integrated pest management approach can help minimize fruit damage, reduce the risk of fruit fly infestations, and protect crops and stored produce.
It's important to regularly inspect and replace fruit fly lures as needed, as the attractant may lose its potency over time or become contaminated.
Fruit fly lures can be a cost-effective and environmentally friendly alternative to chemical pesticides for managing fruit fly populations.
Fruit fly lures are commonly used in agricultural settings to protect crops and minimize economic losses caused by fruit fly damage.
Bactrocera dorsalis, commonly known as the Oriental fruit fly or Asian fruit fly, is a species of fruit fly that belongs to the Tephritidae family. It is a significant agricultural pest that infests a wide range of fruit crops, including citrus fruits, mangoes, guavas, peaches, and pears. Bactrocera dorsalis is native to Southeast Asia but has spread to various parts of the world, posing a threat to global fruit production.
The Oriental fruit fly is approximately 6-8 millimeters in length, with a yellowish-brown body and distinct wing patterns. The adult flies have a short lifespan of about one to three months and are known for their ability to reproduce rapidly. Females lay eggs inside the fruit, and the larvae feed on the fruit flesh, causing damage and rendering the produce unsuitable for consumption or commercial sale.
Overall, Bactrocera dorsalis poses a significant challenge to fruit production worldwide, and the use of fruit fly lures, along with other control measures, plays a crucial role in managing and mitigating the impact of this invasive pest.
Regular price

Rs. 350.00

Sale price

Rs. 250.00

Unit price

per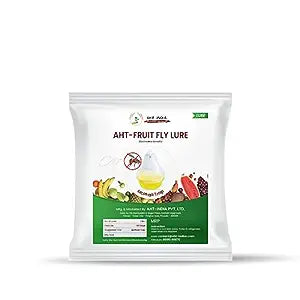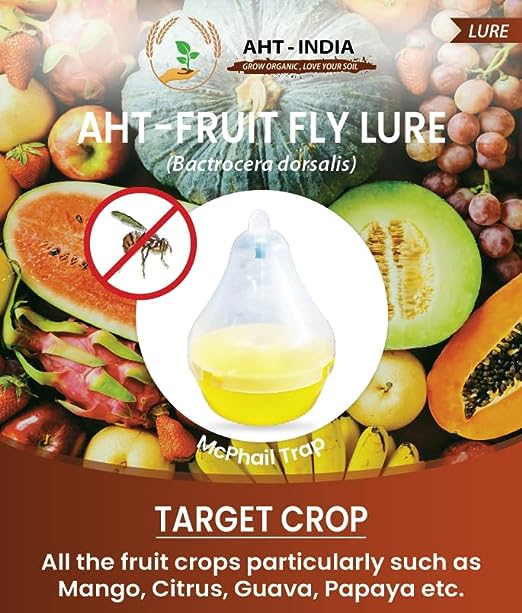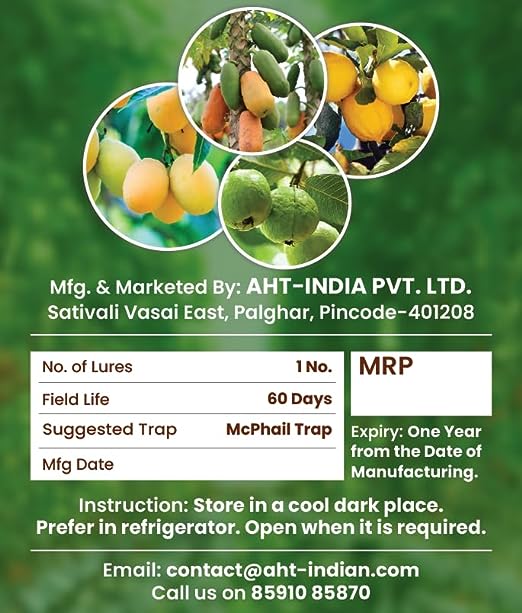 About Seller
Welcome to AHT-INDIA PVT. LTD., a company that specializes in manufacturing traps and lures to control insects. Our products are designed to help farmers and industrial companies control pest insects, such as fruit flies, moths, and beetles. We use special chemicals called pheromones to attract and trap these pests, helping to reduce damage to crops and prevent the spread of disease. We are committed to sustainability and responsible manufacturing practices. That's why we use environmentally friendly materials and production methods to make our products. We are also dedicated to providing our customers with the highest quality products and services. We work closely with our clients to understand their specific needs and provide tailored solutions that meet their requirements.
Product Specifications
| | |
| --- | --- |
| Soil-Fertilizer-Plant Protection | Pheromone Traps & Lures |
Technical Details
Product Details
| | |
| --- | --- |
| Product Type | Plant Protection |
| Product Title | Fruit Fly Lure (Bactrocera dorsalis) |
| Brand | AHT-INDIA |
| Items Included | Lure- Available In Pack of 5, Pack of 10, Pack of 15, Pack of 20 |
| Warranty | Warranty not applicable |
| Country of Origin | India |
| HSN Code | 38089199 |
| Product Dimension | Length 8 cm x Width 2 cm x Height 9 cm |
| Seller Name | Agrionic Hightech, Gala No. 4, Samruddhi-2, Sativali-II, Station Road, Vasai Virar,Palghar, Maharashtra- India- 401208 |
Instructions
Care Instuctions
storein cool and dark space preefer refrigerator
Returns & Cancellation
This product is returnable within 7 day. For more details, please refer to Plantlane's Cancellations, Returns & Refunds Policy